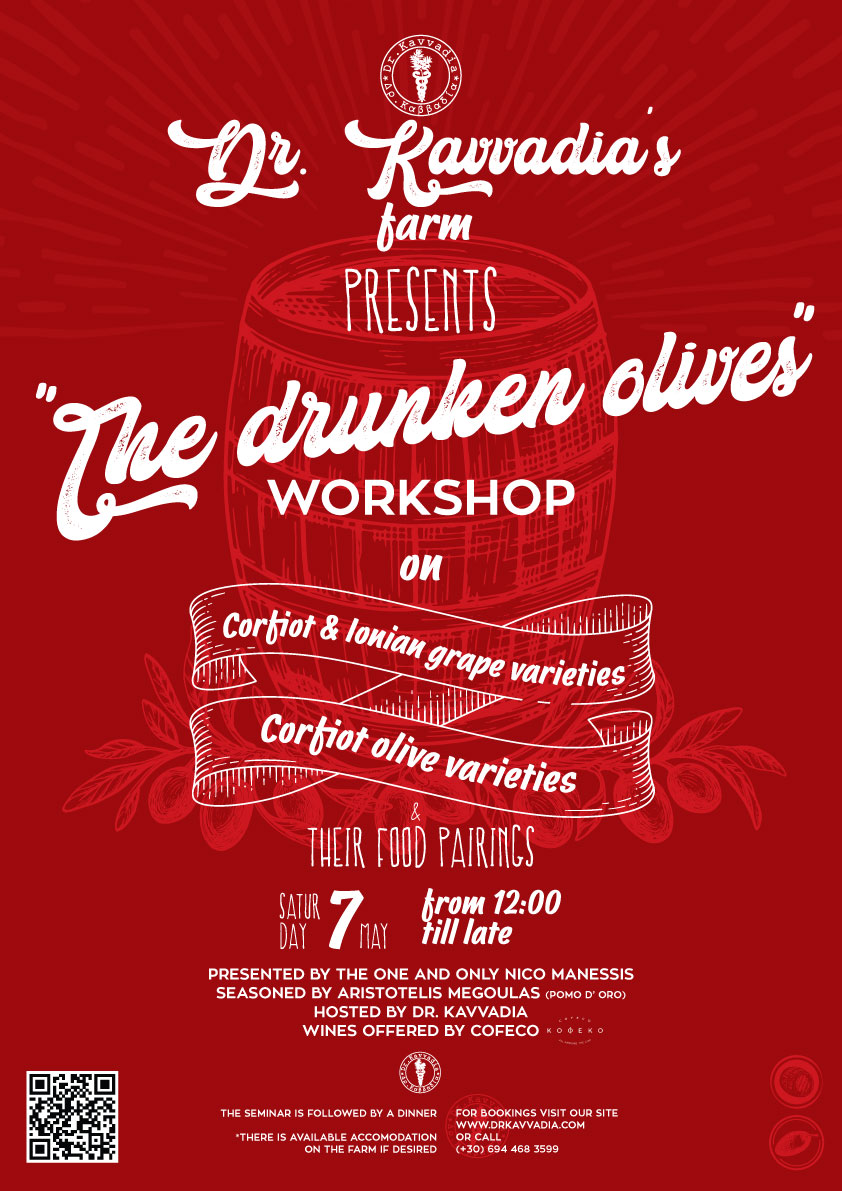 The drunken olives
A presentation of Corfiot and Ionian grape varieties by Nico Manessis (Greek Wine World, COFECO) and their food pairings by Aristotelis Megoulas (Pomo d'oro).
Zakinthos, Kefalonia and Lefkada have already started… Now it's Corfu's turn…! Local wine is evolving and reaching new heights. We are at the turning point of something new and special.
Nico Manessis will guide us through known and lesser known grape varieties from Corfu and the Ionian islands. Aristotelis will cook dishes that pair nicely with the wines, using local and seasonal ingredients grown mostly on the farm. All this will be seasoned by Dr. Kavvadia's olive oils. This event will be hosted on the farm, at Tzavros area in Corfu.
Wines offered by COFECO
---
Aristotelis Megoulas
Aristotelis Megoulas was born in Paris France 3/6/1978, grew up in Piraeus Athens and leaved for more than ten years in Bologna the gastronomic capital of Italy where he studied economics. That is when the creativity and the magic of the culinary world gained him. His first professional involvement with the restaurant business came while he was studying. He started working in restaurants as a waiter and a bartender, initially to supplement his income but he realized very soon that he could practice his favorite art cooking. It became apparent that for Aristotelis cooking was much more than a hobby or an extra income and he decided that the restaurant business was his habitat and got involved professionally. Influenced from the mixed origins of his family France-Greece-Italy and his love for art thanks to his father who is a sculptor he developed his own cooking style, inspired from his life experience with the use of the best local seasonal produce.

He worked from 1997 to 2006 for Rosa Rose Bologna group (bar-bistro-ristorante-pasticceria-catering). In 2006 he moved back to his beloved island of Corfu and decided it was time to create his own "atelier" Pomo d' Oro Corfu (cuisine-catering-private fine dining) in the historic center of Corfu town, awarded with one star at the FNL guide from 2016 to 2020, modern Greek Cuisine award 2020 from Alpha guide, no 52 of Greek restaurant 100, nominated for a toque d' or from Alpha guide, recommended from Aegean airlines, and the French embassy of Greece(Gout de France-Good France). As a reward of his constant hard work, he was listed in 57 place of the most influential chefs for the past decade in Greece and 51 place for season 2021-22 . He participated in Master Chef Greece and other Greek tv shows, author of recipes and culinary articles for food magazines and websites.

He is chef ambassador of NORMAN abbattitori, culinary consultant of TRYP BY WYNDHAM DASSIA CORFU, "KUZINIERA" fresh pasta Corfiana.
---
Nico Manessis
Author & Lecturer.
Nico has widely explored the Greek vineyard the last 25 years. His books were instrumental in bringing attention to the new wines of this historic vineyard. He has also co-produced the award winning documentary 'Pelican Watch'. His lectures are much sought after as his stories are lifelong experiences through cultural landscapes of France, California & Greece.